There are an infinite number of flooring options out there to choose from. Selecting which one will look best and will hold up to every day use in your new home can be tough. In this post, we focus on how we selected our hardwood floors and the stain color, how we clean them, and how they're holding up after two years.
Before selecting our flooring, one thing we were sure of was that we wanted natural colored, wide plank hardwoods. We took a trip to a local flooring store to look through options. I had seen a lot of people using this one specific color of COREtec flooring that I really liked, Cairo Oak, but we quickly found out that it was going to cost significantly more than we planned on allocating in our flooring budget.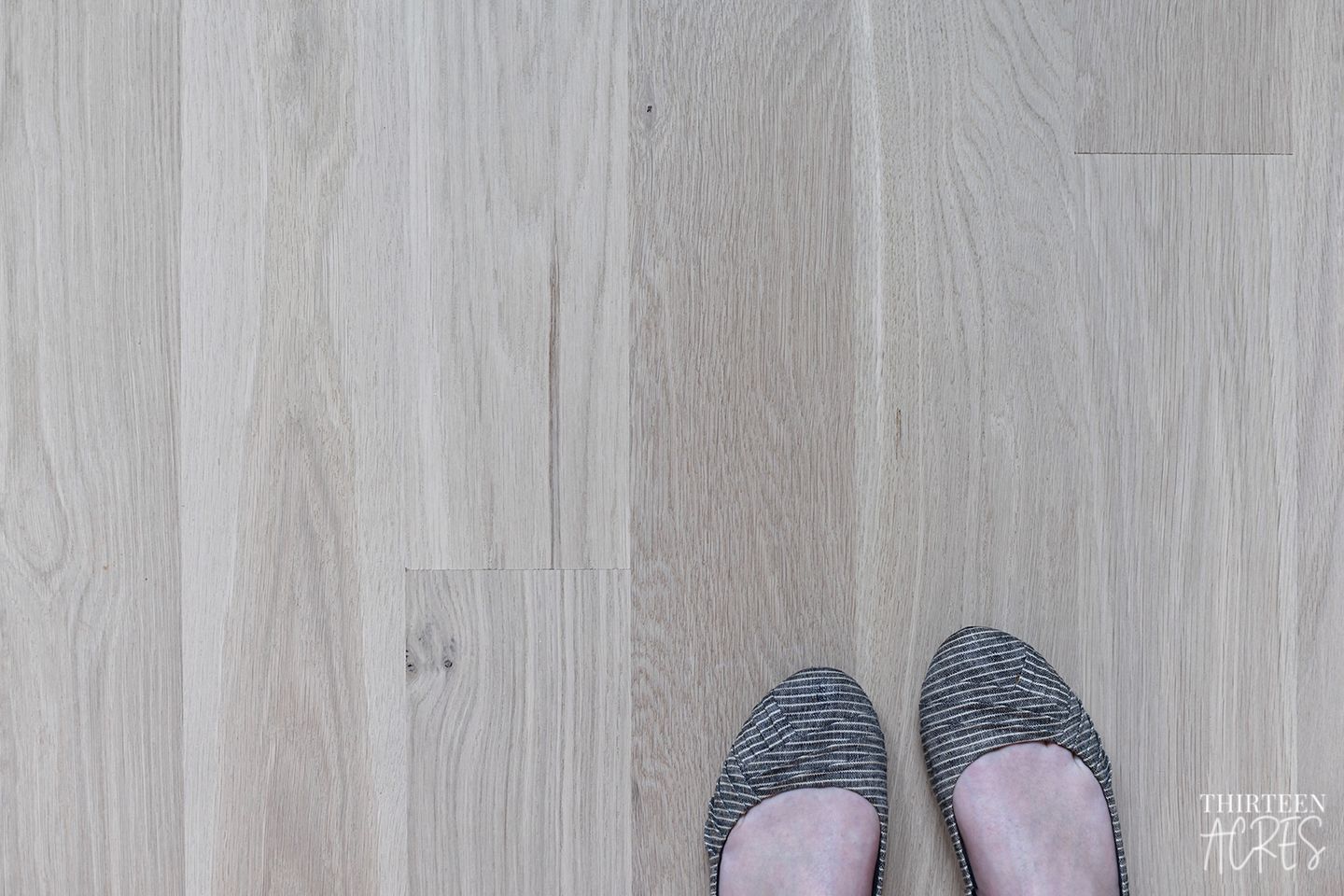 As I mentioned, we wanted very wide planks, but our builder pointed out that we have to be careful how wide we went – the wider you go with true hardwood, the more they're going to expand and contract. That means that in the winter – in cooler, less humid scenarios – the floors will open up quite a bit to leave significant cracks between the planks. In the summer, it's the opposite, and if they expand too much, they can start buckling. Our builder recommended that if we were going larger than 3-1/2" wide, we should consider using engineered hardwoods to reduce the expanding and contracting cycles.
We ultimately decided on 5" wide white oak 3/4" thick engineered hardwoods. Engineered hardwoods are a slice of real hardwood with an "engineered" backer board - essentially plywood. Because of how plywood is made, it's much less prone to expanding and contracting, so it reduces the amount of movement. There is different quality of engineered hardwoods, which is usually based on how thick the top layer of actual hardwood is. Some engineered hardwood is going to have a very thin layer, where if you drop something on it, you could expose the plywood layer, while very expensive engineered hardwoods have a much thicker top layer.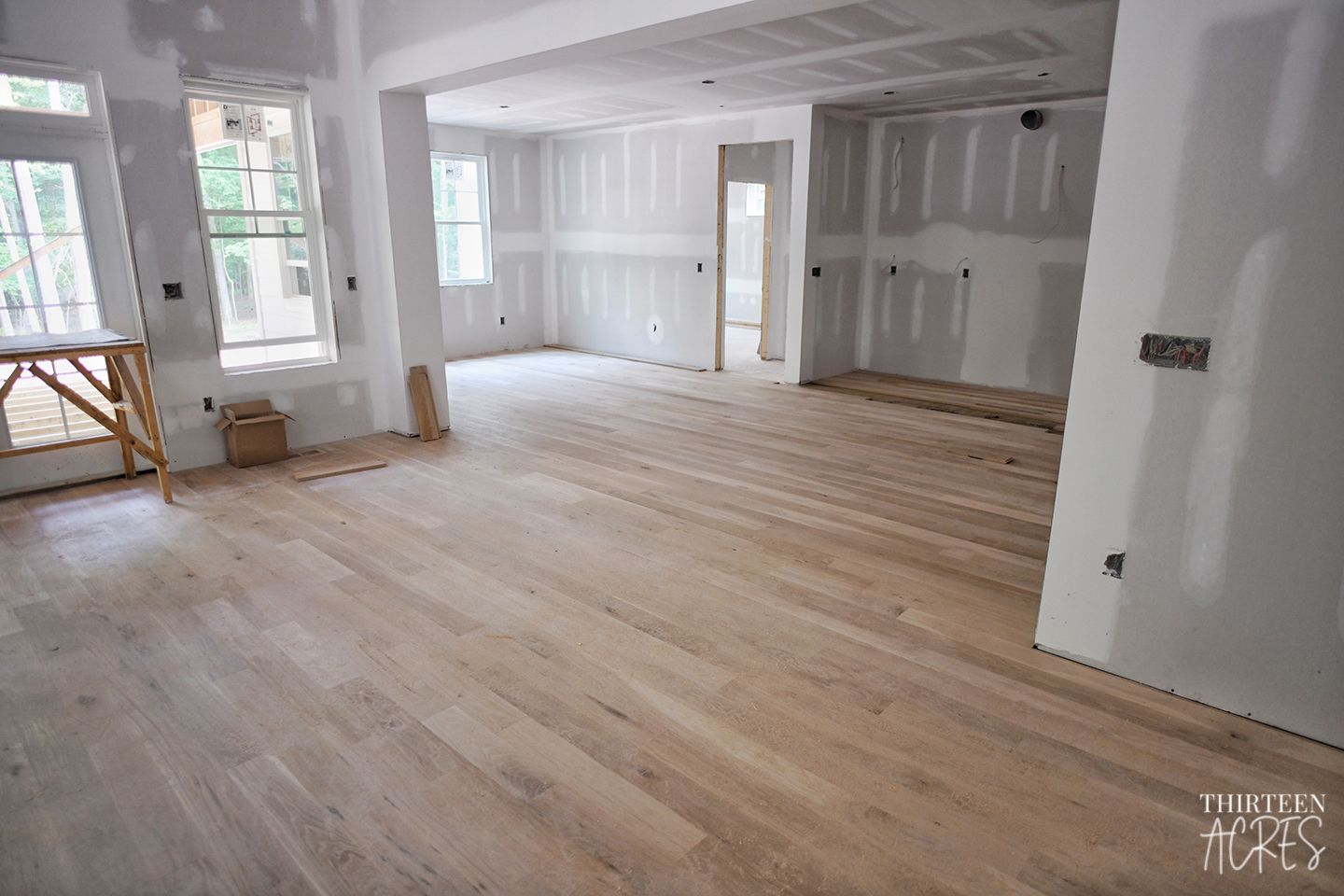 Part of the reason for the top layer is to increase its lifespan. If you want to re-stain a floor or change up the look, you'll generally need to sand down the existing stain and reapply a new coat. Each time you sand down the floors, it takes a little bit off the top layer, and at some point, you can't sand any more without reaching plywood. We wanted true hardwoods, mainly because of how "clicky" and thin the engineered hardwoods we installed in our last house were. However, those were only 3/8" thick engineered hardwoods - with a very thin top layer. What we ended up using in our build was 3/4" total thickness, with a full 3/8" top layer. It is a very noticeable difference. The engineered hardwoods in our new house feel like true hardwood.
Beyond the differences between engineered hardwoods and true hardwoods, flooring is again complicated by another sub-category. Some are sand-in-place, while others are pre-finished. The pre-finished ones are like they sound, they come pre-stained and may come in different textures – things like hand-scraped, wire-brushed, etc., and once you install them they're done. You can usually tell when they're pre-finished because you can often see the ridges between the planks.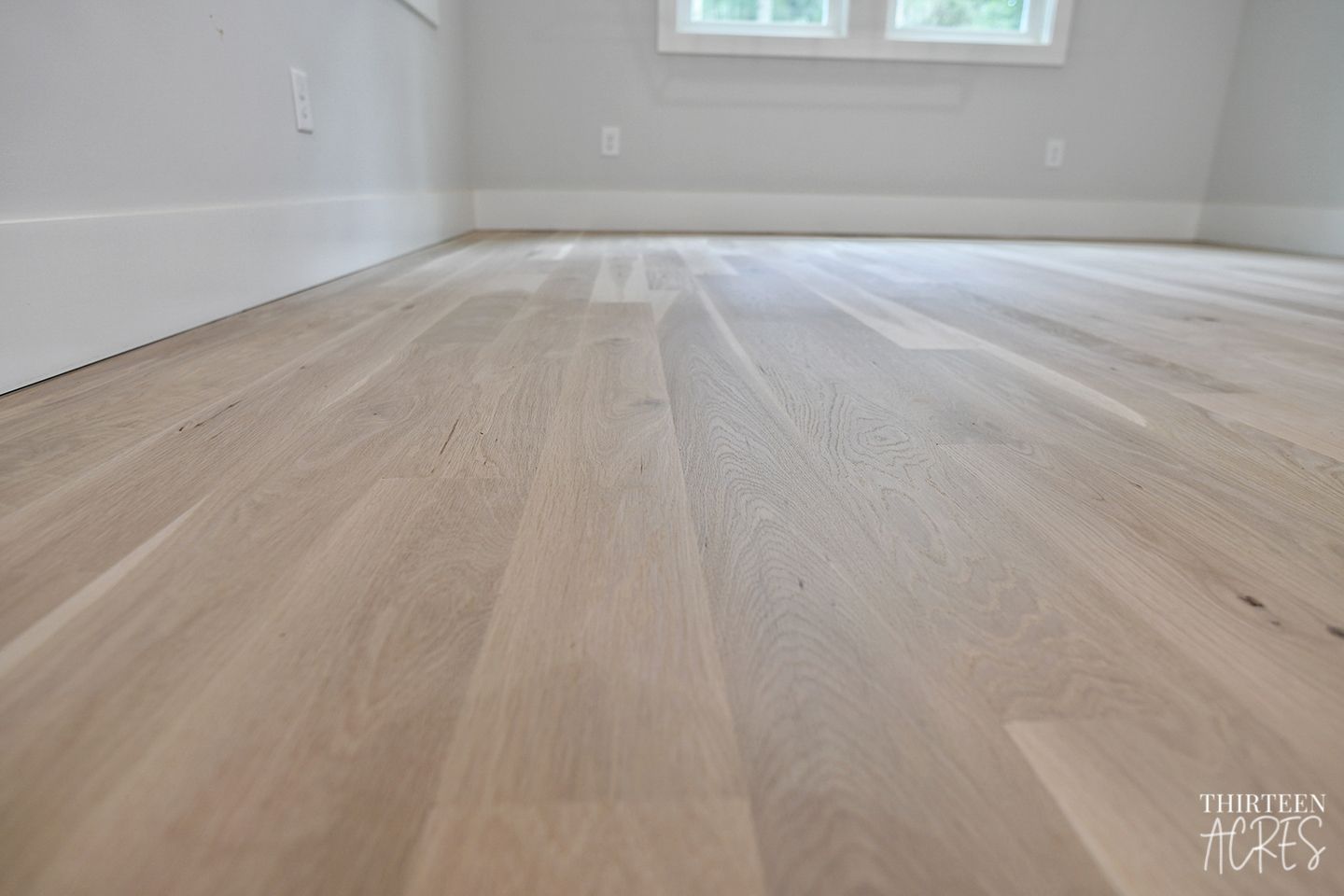 Our floors are sand-in-place, which is also basically like it sounds. Once they're installed, all of the floor is sanded down to be a cohesive surface - you likely won't see ridges in sand-in-place flooring. Once sanded, the stain or finish is applied.
Another selection to make when picking flooring is the species of wood. Common options include red oak, white oak, maple, or cherry hardwoods. For our floors, we went with white oak. White oak is a very durable wood that can stand up to years of use. We love the way it looks naturally, and it can be stained without pulling as much of a red undertone, like red oak does.
We can't take any credit for the stain color combination we chose. When we were building, I was scouring Instagram, Pinterest, and Google for inspiration. I had been following @chrissymarieblog for a while and loved how her floors looked. After a little search on her blog, I discovered that she shared the stain combination she used. Like us, she wanted to keep a natural look on her white oak floors and discovered that the combination of DuraSeal Country White and DuraSeal Neutral gave that natural look. We still tested a few options, but ultimately went with the mixture.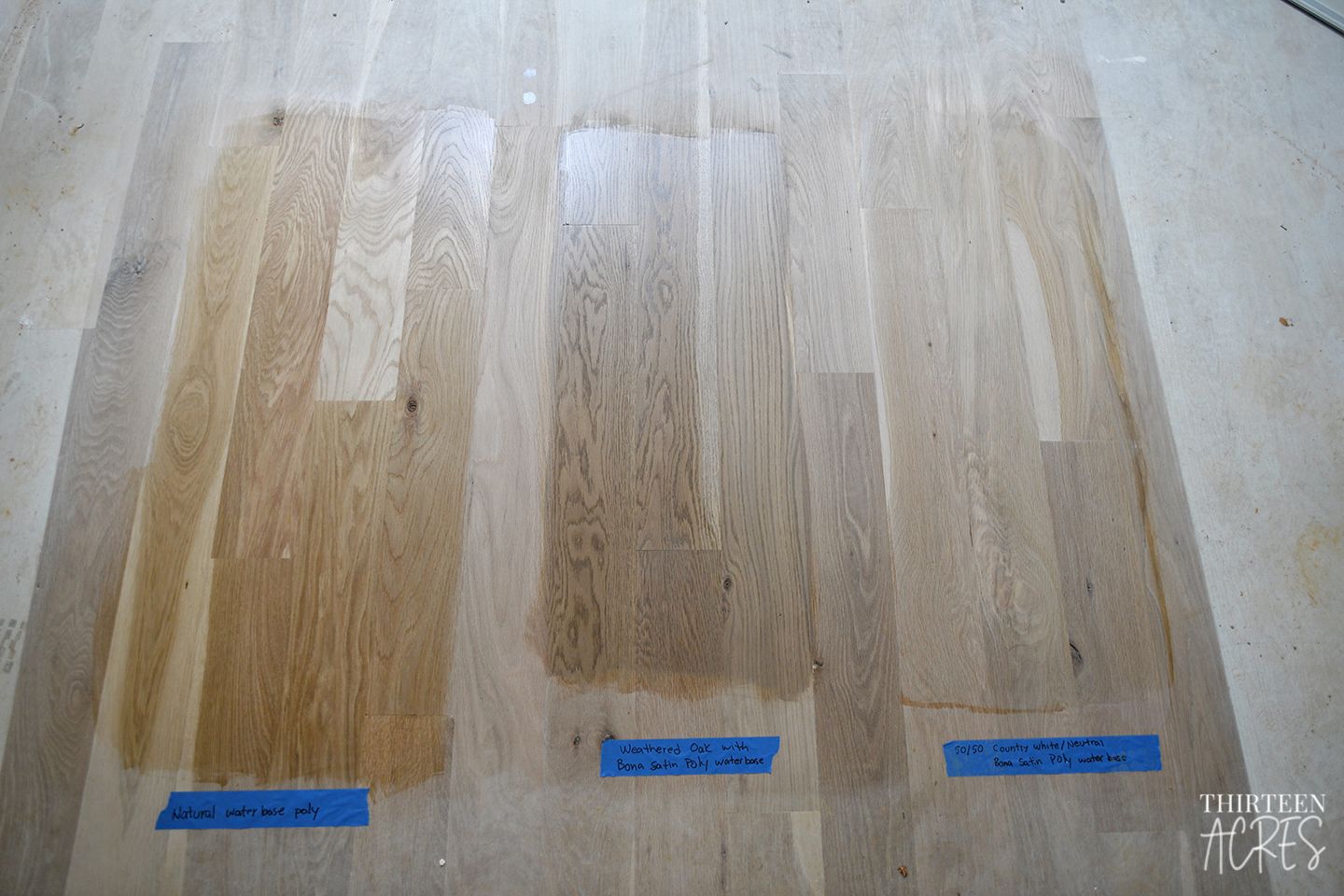 The next choice we had to make was what type of finish to use. We had read that oil-based polyurethane can sometimes cause your floors to yellow over time, and that was the one thing we did not want to happen. We're not fans of that yellow floor look (think 1990s hardwoods). We had that in our first home and it looked very dated. After more research, we discovered a water-based polyurethane - Bona Traffic HD, which isn't supposed to yellow your floors like oil-based polyurethane can. We also had to figure out which sheen we wanted. We were in a toss-up between satin and matte. We heard that matte can be harder to keep clean, but we also didn't want that shiny look that we were worried we would get with satin. Luckily, our builder put a few big squares of test stain and sheens to let us see what we'd be getting. We ultimately chose satin, and it's not shiny at all! In fact, I would say it looks matte to me.
So far our floors have been easy to keep clean. Actually, one thing that we quickly realized when we moved in was how much flooring there was to vacuum and keep clean in our new home. We invested in an iRobot Roomba, which we can easily control from our phones when our floor is in need of cleaning. Although, if I'm looking for a workout or want to clean one area quickly, I'll use our Dyson. The light-colored flooring shows a lot less hair and dirt than the dark floors we put in our previous home, so that's been a plus. Even if our floors are dirty, they don't look dirty! In addition to vacuuming, we also have a Bona Mop, which we use from time to time to keep the floor looking good as new!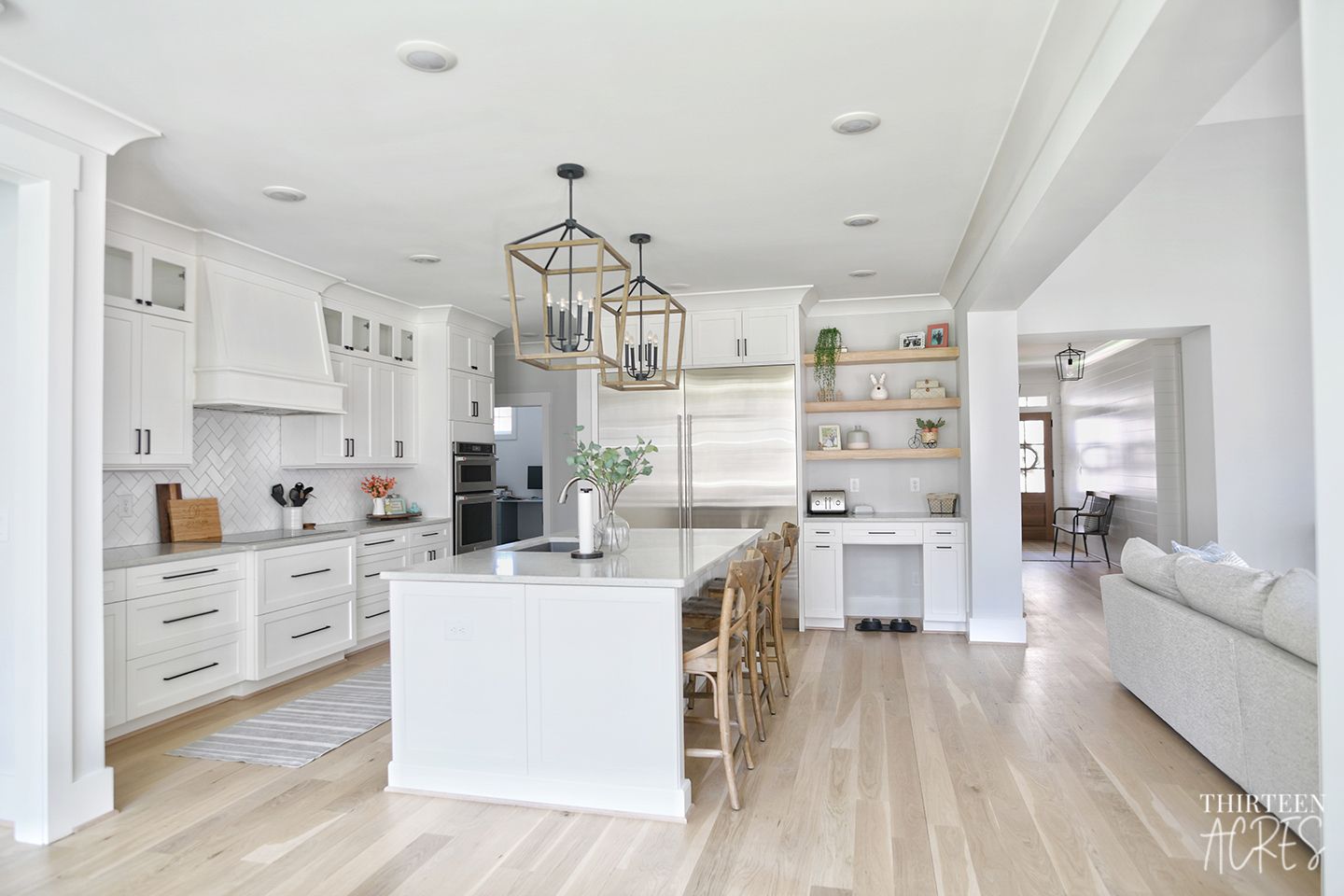 We've been in our new home since November 2020, and our floors are holding up well! Really, the only item of note is that with the change in temperature/seasons, they do expand and contract, creating small gaps here and there between the boards. It does make us happy we went with engineered flooring, because if it was true hardwoods, the expanding and contracting would probably be even more noticeable.
When building a home or renovating a space, the choices may seem never ending. Hopefully with a little inspiration, you can make informed decisions and your choices will come together in a beautiful way!