We can't believe that we've lived in our home for almost two years now! We loved the design and building process, but we've loved turning our new build into our home even more.
Overall, we are thrilled and in love with our home, but now that we've spent more time here, we've realized there are some adjustments we'd make if we were to build all over again. We tried to think of everything when building, but there are bound to be items you miss, things you didn't think about, or circumstances that you weren't expecting (ahem - COVID). With that said, we wanted to share a few things that we'd add, change, or completely remove if we were to do it all again, and share them with you so you can consider them before you build!
Office Space
When we began our build, there wasn't a global pandemic on our minds, so we didn't really plan to work from home as often as we do now. Luckily, we did include office spaces for each of us, but they were never with the intention of working from home nearly every day. If I had known that, I may have considered including larger windows in my office (which is combined with our laundry room). While the three small windows let in plenty of light, they are higher windows, so I don't get much of a view and I'm not able to open them to let in any fresh air. This room is in the front of our home, so changing the windows would really affect the exterior appearance, but it may be worth it to have a nice view and fresh air.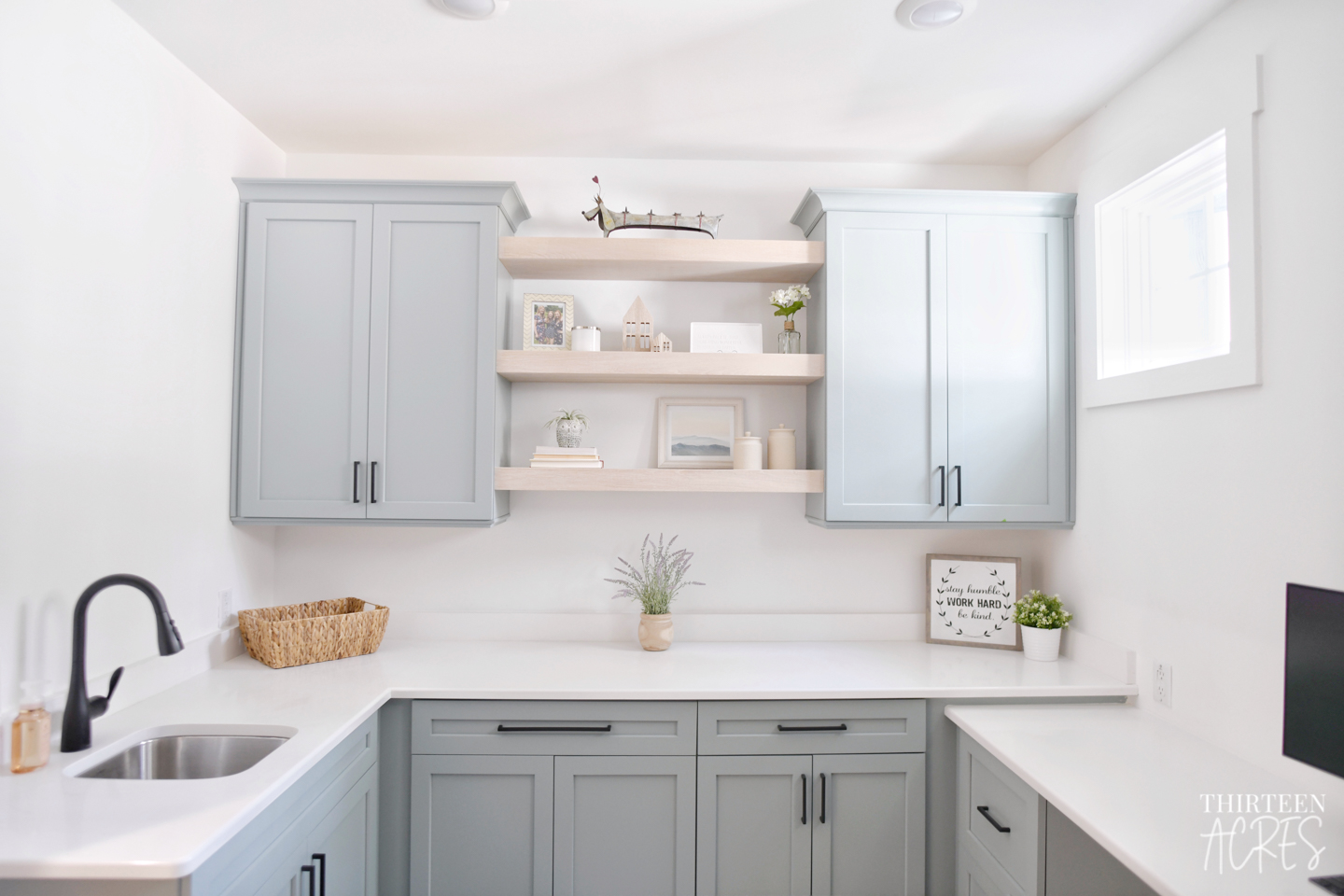 When we were building, we did think about splitting up the laundry room and my office, but originally it was meant to be more of a craft room and wasn't going to be used as often, so we combined them in order to have one larger space. For the most part, it isn't a huge issue, but there have been days where I've wanted to run a load of laundry – and it's quite noisy and hard to make phone calls when the washer or dryer is running in the background. At the end of the day, neither of these are terrible issues, but if we were to build again, we may make some changes to this setup.
Windows
Along the lines of window changes, we would also include larger windows in our primary bathroom. In the drawing of our home, they looked large enough to let in light, but also maintain privacy. Now that we've been in the home for a while – and really as soon as we saw them in place – we realized they could have been larger with no issues.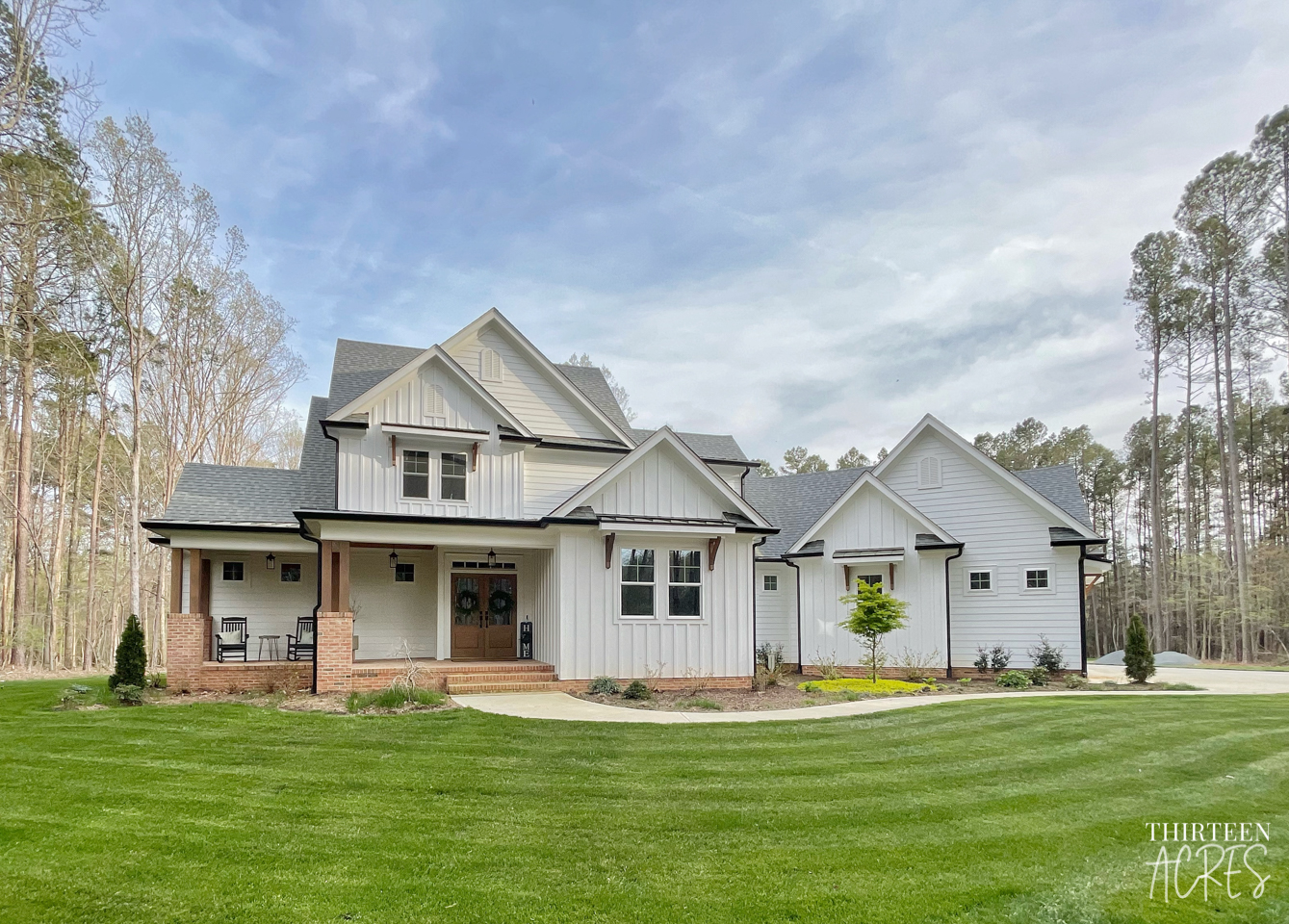 Exterior Lighting
Though we have multiple flood lights on the outside of our home, somehow we didn't include any lighting between our front porch and garage. While it's not that large of a stretch, and we don't typically use the front entry, we wish we had included some additional lighting out there.
Landscaping
We could have factored landscaping into our build budget, but we thought that was an area we could save some money and incrementally improve upon. As soon as our home was nearing completion, we regretted that decision. There were so many muddy areas that we knew we didn't want to leave that way for long, so we ended up hiring a landscape architect almost immediately. We thought that we would do the landscaping ourselves using the plan she created; however, we decided to hire that out as well to get it done before the water splashing on the mud ruined the siding. If we were to do it all over again, I think we both agree that we would make room in the budget for landscaping to be done during the build.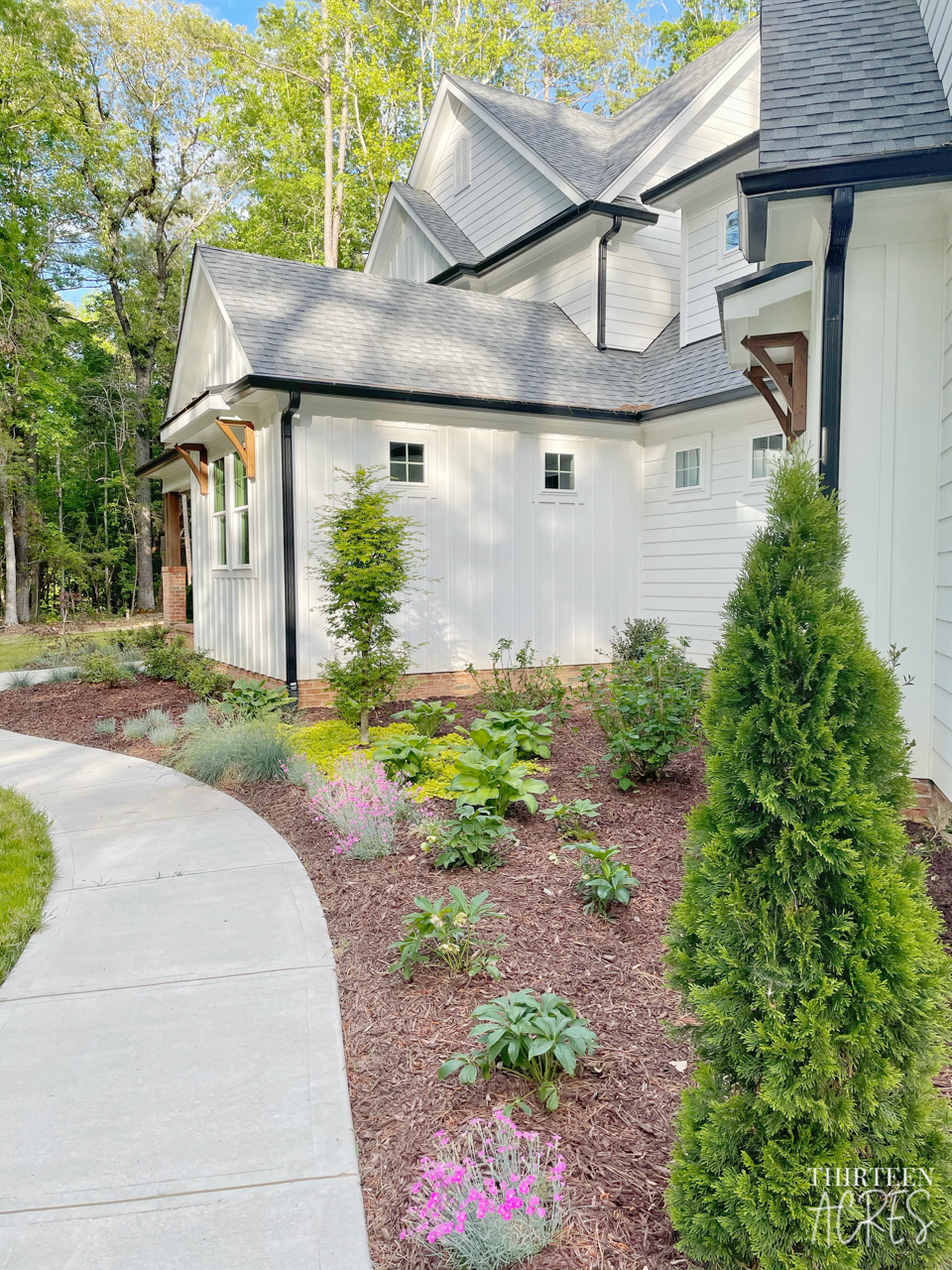 Finishes
When we were building, there were certain rooms and finishes that we absolutely knew we wanted. For example, we wanted hexagon tile in the primary bathroom, white kitchen cabinets with black hardware, and light neutral-colored hardwoods. However, there were other areas that we didn't necessarily have strong preferences on. For example, our guest bath and upstairs bathroom. At the time, I personally liked the look of a navy vanity and also thought a gray vanity would look good, but that's about as much as I knew I might want for those spaces. Based on that alone, we picked some pretty generic tiles that we felt matched those vanities. When we were making those selections, the finishes all looked great together, and they do now that they're complete, but we don't necessarily love those rooms or those choices. They work and they look fine, but they're just not our favorite. If we were to do this again, we both agree that we would spend more time finding the finishes we absolutely loved, and not just the ones that paired well together.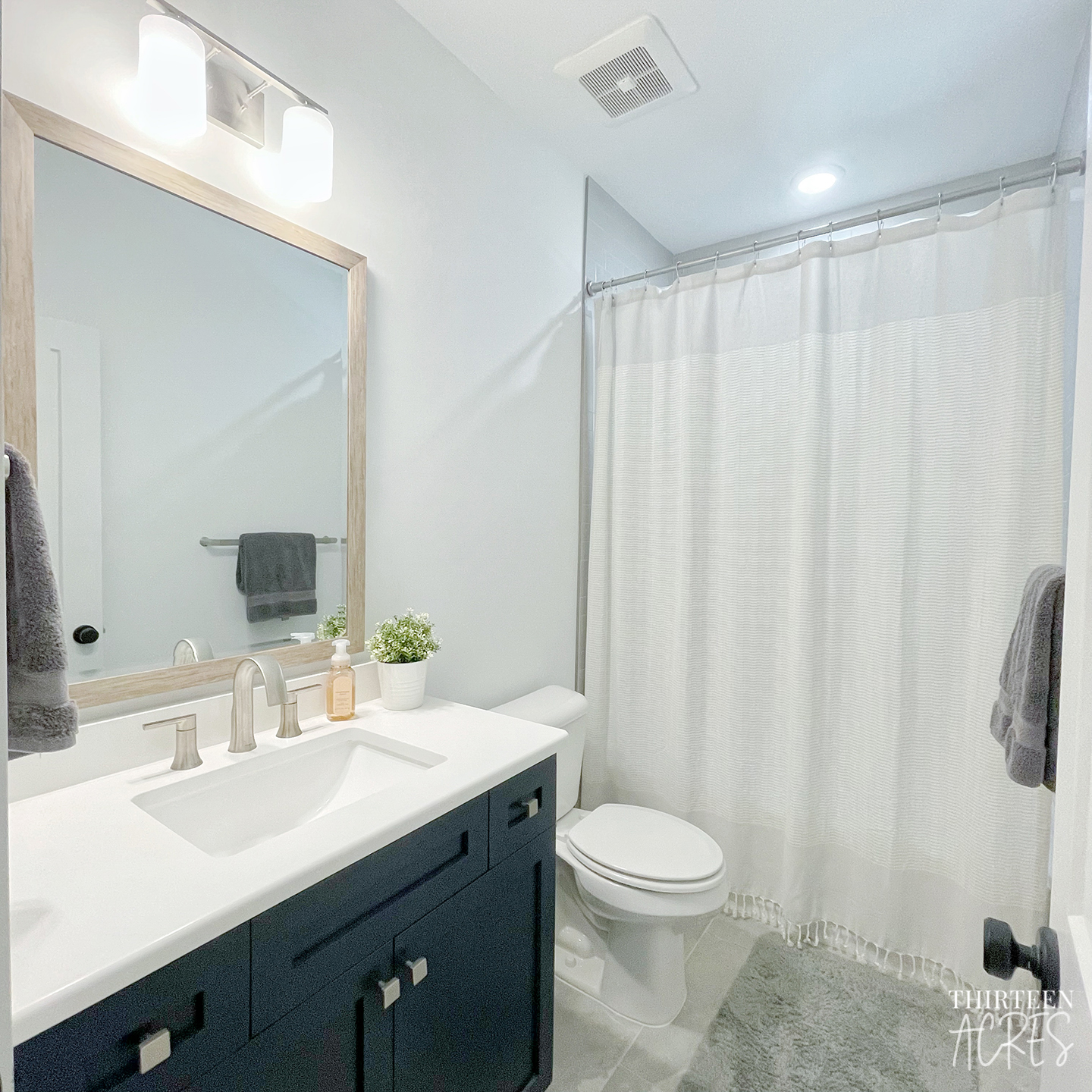 Along the same lines, we would also change out the nickel fixtures we chose in those bathrooms for matte black. We chose nickel to save money, and in our last home we used them exclusively, but now that we've had them in our new home for a while, we strongly prefer the matte black. Since we have harder water (even with a softening system), we notice the nickel shows water marks much quicker and they're hard to keep clean!
Lastly, we would choose a different countertop for our bathrooms and laundry room. We chose white quartz. We thought there was a little more detail in them at the showroom, but now that they're installed, they look pure white. I was a little worried initially that white would show too much dirt, stains, etc, and it does. The dirt alone would be fine if it was easy to clean, but it seems that the quartz stains much easier, and I've had a difficult time completely removing marks and smudges.
Miscellaneous
Some other miscellaneous items that we would change include exterior outlets and exterior water spigots - we would add more of both! These are the little things that you just assume following the protocol of one on each side of the house or every so many feet apart should be sufficient, but we would definitely add a few more.
There are also a few doors that we would probably change to pocket doors - specifically the door to our closet as you enter from the hallway. We primarily keep this door open, so it ends up blocking half of one side of the closet. A pocket door could stay open and tucked away.
Originally, there was a door at the top of the stairs to our bonus room in the plans, but we opted to remove it. We thought we would primarily keep it open and couldn't think of good reasons for having one, but now that we live here, it could be beneficial – mostly to keep the dogs from going up and down the stairs, but also to cut back on noise if one of us is up there playing a game or watching something while the other is downstairs. It would also help improve the sound while watching movies.
One other door we talked about was the door to the toilet in the primary bathroom. Scott really wanted a pocket door there and stands by it. He prefers it open when not in use to keep it better ventilated (and also at night, because there is a small night light in there that makes it easier to find in the dark).
Scott may not agree with this, but I would choose to put hardwoods in the primary and guest bedrooms. This was something we discussed but ultimately decided on carpet in order to save some money. I still wish we had gone with the hardwood floors in those rooms.
The last thing that we'll mention is the layout of our home. We still LOVE the layout and flow of our home; however, something we quickly noticed after moving in is that there are no good vantage points of the driveway from anywhere in the house (except the bonus room above the garage). We do have a camera on our garage, so we can always pull that up on our phone, but it does take a few seconds to update. It would be nice to be able to just look out a window to see if someone is here, but because we have an angled garage, it makes it tough to do so. Having an angled garage was actually something I wanted - I just really like the unique look it gives to the house. I'm not sure that we would or could easily change this, but it is definitely something to consider if you're planning to build a home with an angled garage.
Overall, I think we – along with our builder, who made some great recommendations along the way – did a pretty good job thinking through every last detail of the build! After nearly two years of living in our home, there really aren't many things we would change, and the things we would aren't really a necessity, but more of a preference. We hope this gives you some things to think about as you plan your new build!